1431 Harmony Ct
Itasca, IL 60143
PM Truck Service
<! -- -->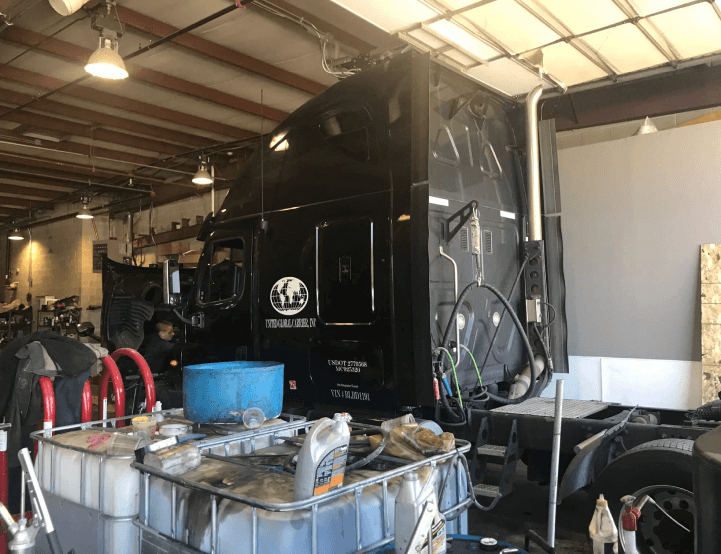 Benefits of PM (Preventive Maintenance)
Compliance with Regulations
Adhering to truck maintenance regulations is a legal and ethical obligation. Preventive truck maintenance ensures your truck's compliance standards which are essential to avoid fines and penalties.
Safety on the Road
Your truck's safety is crucial, not just for you but for everyone on the road. PM ensures that important parts like brakes, tires, and the engine are in good shape. When these components work well, your truck is less likely to cause accidents due to failures. It's all about making sure your truck is a safe road companion.
Cost Savings
Preventive Maintenance (PM) is like giving your truck a regular health check-up. By catching and fixing small problems early, you prevent them from turning into major and expensive issues. This helps you save a lot of money in the long run. Think of it as preventing a small leak from turning into a flood.
Reliable Performance
Reliability is the name of the game in the trucking business. With regular truck preventive maintenance, you decrease the chances of sudden breakdowns. This means your deliveries are on time, your customers stay happy, and your income remains stable. It's like having a trustworthy partner on the road.
Higher Resale Value
Trucks having preventive measures maintenance are more attractive to buyers. If you ever decide to sell your truck, you'll get a better price for it if its regular maintenance takes place. It's an investment that pays off when you decide to upgrade or change your vehicle.
Our PM Services
Electrical System Checks
This includes inspecting the wiring, connections, batteries, and alternators to ensure they are in optimal condition. We look for loose connections, and any signs of wires wear & tear. After problem detection, we perform the necessary repairs or replacements to prevent electrical failures on the road.
Steering and Suspension Maintenance
Our PM truck service involves thoroughly inspecting components such as tie rods, ball joints, shock absorbers, and steering linkages. On the basis of assessment, we make any repairs or replacements if necessary.
Cooling Systems
Our cooling system service involves examining the radiator, water pump, hoses, and thermostat. We check for leaks, coolant quality, and thermostat functionality. If any component is malfunctioning, we repair or replace it to prevent overheating and maintain the required cooling.
Brake Systems
We inspect brake pads, rotors, calipers, and hydraulic systems. Besides that, we also measure
brake pad thickness
check for signs of wear
assess the hydraulic fluid for proper levels and quality.
Computerized Testing
We employ diagnostic tools to run comprehensive digital tests on your truck's engine and other systems. This technology allows us to identify issues accurately, from engine malfunctions to sensor problems.
Transmission
Transmission maintenance includes checking for fluid leaks, inspecting the transmission filter, and ensuring the gearbox operates smoothly. We may change the transmission fluid, replace the filter, and adjust the gear ratios as you need.
Maintenance Tune-ups
During a semi truck tune-up, we inspect and fine-tune ignition, fuel delivery, and emission control systems. This helps optimize engine performance, fuel efficiency, and overall reliability.
Why Choose Us?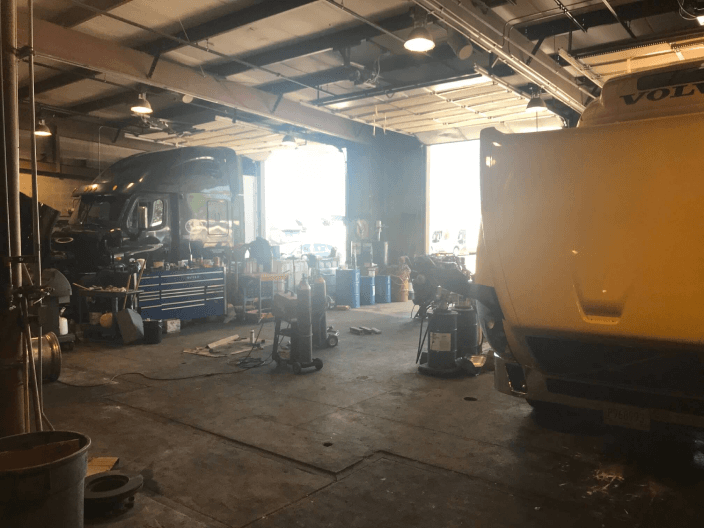 Major Truck Tire Brands Available
To meet long-haul transportation, off-road applications, or any other demand during transportation, various vehicles need different tires. We provide tires for all major manufacturers, like Duck Commander, Cooper, Hankook, and others, to meet your demands.
Advanced Tools
When you bring your vehicle with the engine, brakes, or any other malfunctioning, comprehensive diagnostic is our first step. We utilize high-end testing equipment including digital testing and tire balancers. Expect every current piece of tool to maintain the highest degree of accuracy of our PM truck service.
Covering Diverse Repair Needs
Our extensive services include anything from rectifying a simple flat tire repair to significant engine overhauls. As trained professionals, we are able to handle any and all semi truck and trailer repair needs, regardless of the sort. We have expertise in repairing vehicles from top manufacturers, such as Ford, Isuzu, UD vehicles, and many more.
Reliable Customer Support
Our services focus on the complete contentment of our customers. This is why we include customers in every step of the restoration process. Service schedule, prompt communication, and timely response to the truck location make us a symbol of trustworthiness.
FAQs
Truck preventive maintenance (PM) should occur typically every 3,000 to 5,000 miles or 3-6 months. This helps keep the truck safe, efficient, and reliable by checking and servicing its key parts.
Yes, semi truck preventive maintenance can improve fuel efficiency. It involves regular checkups and fixes for your vehicle, ensuring it runs smoothly. Well-maintained engines, tires, and systems use fuel more efficiently, saving you money.
In order to schedule preventive maintenance for your truck, you can call us at (773) 377-9699. Or fill out the Contact Us form in the "Schedule Service" section of our website.
When choosing a truck tune-up service provider, look for experience, reliability, and a good track record. Ensure they offer a custom plan for your equipment, schedule regular check-ups, and have a responsive support team. It's important that they use quality parts and follow safety guidelines. Cost-effectiveness and clear communication are also key factors to consider.